Show #281: MUSTA HAD TOO MUCH CA~NDY
NO MORE LOGGING IN TO COMMENT!
Download the Show: (right click, save as)
Visit Our Forum!
Send comments, questions, or criticisms to daveandjoel@gmail.com
This show also known as: Appreciates non-standard bust configurations.
Biohunter is somewhere between Demon City Shinjuku and Wicked City.
Music Selection: Biohunter may have had 80s music. But Wicked City had something on it: MY DAAAAAAAAAAHLIIIIIIIIIIIING.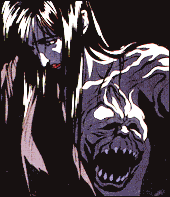 This spot was supposed to be a GIF of Redheaded Guile crushing a crystal ball. But Joel did not deliver. So here's a mouth-boob.