Show #177: We Call It Earth Jr.
COMMENTS WORK AGAIN. LOG IN TO COMMENT
Download the Show: (right click, save as)
Visit Our Forum!
This Episode Also Known As "Sliced Bread Having Been Made A God in 1960"
Send comments, questions, or criticisms to daveandjoel@gmail.com
This show is about Martian Successor Nadesico (who knew?).
Opener: Ikaruga – Trial
Ender: Nadesico – You Get To Burning
This show is about: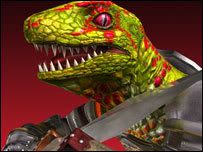 Lizard Man

Sliced Bread

Angry Green Haired Chicks

No, Seriously. I'm Into Them